Each person dedicated for problem solving according to 8D Methodology has to be aware that Interim Containment Actions ICA can be applied not only in step D3 but also in D0 defined as Problem Statement.
In this second case ICA can be kicked-off as element of Emergency Response Actions (ERA) which are defined after considering, if the problem from client is related to safety or it's needed urgent solving. Here has to be mentioned that ICA is eliminating the problem symptom (so exactly this what is reported by client) instead of Permanent Correction Actions defined in step D5 which is eliminating the root cause and by this problem symptom itself.
Of course the effectiveness of ICA's and PCA's activities should be verified as well.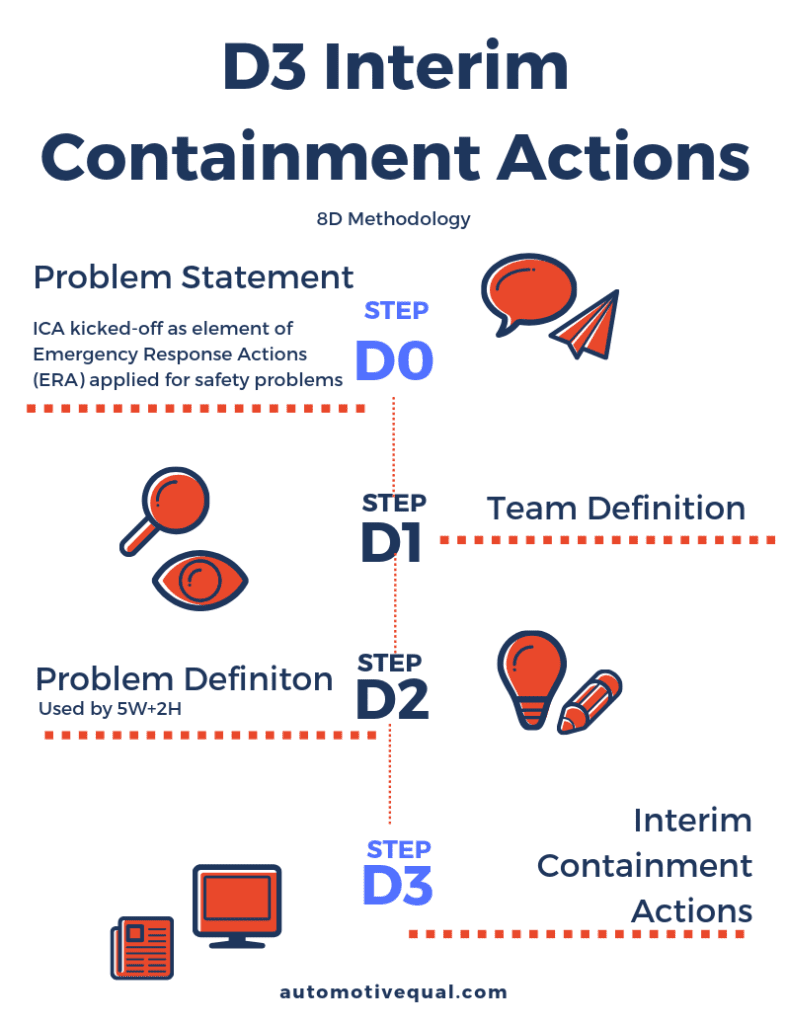 During interim containment actions defining we should ask yourself:
Are we still not producing defective products?
Do our control processes require increased frequency of sampling or measurement method change?
Is the problem could be notified to the supplier?
Do the actions that we intend to take do not cause additional problems?
Above actions must take place immediately after determining the problem and have to eliminate the effects caused by the defective product. The goal of each ICA implementation should be related to impact limitation of the problem found by final customer, occurrence scale and the final costs of lack of good quality.
Interim Containment Actions ICA – examples
There is a lot of different strategies of ICA implementation which are depends from problem gravity reported by customers. Examples are listed below:
Temporary 100% sorting of components
Additional control of finished products before shipment
Additional measurements and tests in the process
More frequent tool change
Manufacture from one source (in case of dualsource)
Change of the manufacturing cell
Requesting 100% control of materials at Tier 2
Client notification of non-conform products
Immediate repair of the machine or tool
Additional quality control operations
Introduction of sorting actions in all places in the supply chain
Stopping and isolating suspected measurements
Benefits of

implementation
The main benefit of ICA activities implementing  is ensuring the safety of the finished product and minimizing costs resulting from the occurrence of a quality problem. Thanks to the appropriate and immediate response, we are able to eliminate the potential costs resulting from the need for:
scrapping / repairing non-conform final products

special transports to customer factories

additional production shifts kick-off

final products selection in customers warehouse

recall campaigns from the field
We can't also forget that ICA activities are implemented for defined time period, because they're generating significant costs for which can be included: cycle time, work inputs, more expensive raw materials and others).
You can download an automatic, editable Excel form for free on the Free Quality Tools
Document name: 8D Report – Excel form